Online Store
online store
How To Add Facebook Messenger Live Chat Plugin To Your Online Store
Using the Facebook Messenger Chat Plugin can provide massive benefits to your online store. The Facebook Messenger Chat Plugin can add a new tangent to your business, especially customer engagement and communication. 
With live chat integration, you can turn Facebook Messenger into your next sales channel. Facebook's Chat plugin is made to simplify businesses and solve customer service requirements. Through the incorporation of Facebook Messenger into your website/online store, you can monitor, talk, take orders and even let your customers surf the store on Facebook itself.
In simpler terms, using Messenger as Live Chat allows your website visitors or online store visitors to communicate with you using their Facebook accounts and continue chatting even after they leave your website. If they are willing, they can go through your store, read the details of the products and buy them on Facebook itself. 
Integrating the Facebook Messenger Live Chat plugin in your online store with QPe is quite easy. You just have to connect your own online store to this plugin by following a few steps:
Visit the store, add your store name and log in to your account with your Facebook account
Now go to the Bot Features option
Customise the message templates that the bot will use 
Save it
If you want to chat on your own with potential customers, you can do that as well.
Just visit the Live Chat option on the dashboard
Login to your business Facebook page name
Click OK and you can do a live chat with your potential customer
<iframe frameborder="1" height="480" name="video1" scrolling="no" src="https://www.youtube.com/watch?v=Uj7jXmSXMpQ&ab_channel=QpeOfficial" tabindex="-1" width="730"></iframe>
If you do not have an online store on QPe, you can do it by following steps:
Navigate to your Page settings.
Click Messaging.
iInside the option Add Messenger to your website, click Get Started.
Customise your live chat with branded greetings, colours, and response times. After that, add the code to your website and you're done.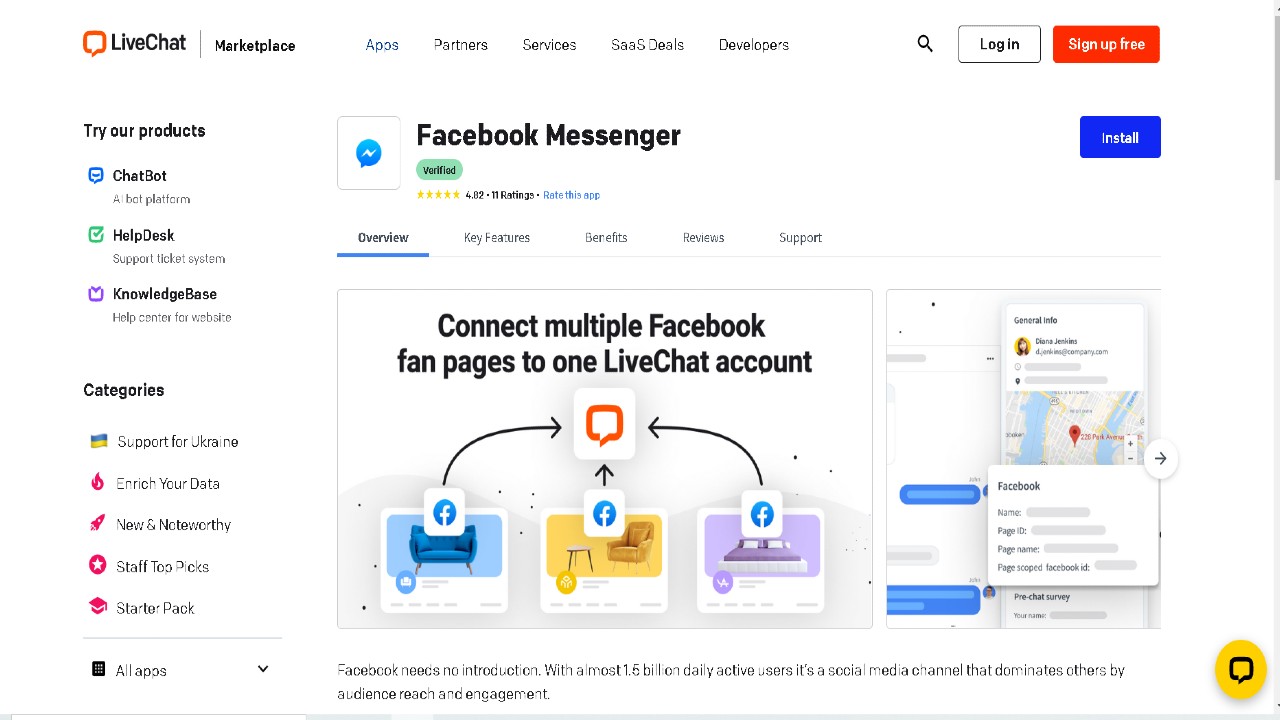 What are the benefits of the Facebook Messenger Live Chat Feature:
There are many benefits of this plugin that will definitely help you to stand out from your competitors. Some of them are:
1. Instant Communication:
This plugin helps the customer to strike the conversation instantly. Since, the bot replies immediately, the visitor does not have to take time for making the decision or wait for the owner to reply. 
They can instantly get the solution for what they visited for. For instance, if a customer wants to order something from your store, the bot will automatically give them the option to buy the product and receive the order on your behalf.    
2. Accessibility:
Since most of the people have shifted to online shopping even for their daily needs, Facebook comes up as the best option to target people and make them your go-to customer. 
Using this plugin, the customer gets accessibility to explore the store, buy, return, put a query, or anything as per their convenience without any delay/argument. 
3. Automation:
The recent addition of automation options in online business, specifically on social media has relieved the life of businessmen. Now they can receive or return the order, entertain their customers, and let them explore the store even after business hours through the help of these plugins.
4. Entertain More People/ Increase The Sales:
From the time businesses have shifted to social media, it has become a messy place to be in. The comments section, the DMs are always filled with queries and questions which certainly made it difficult to deal with. Using this plugin, you can entertain almost every person who is there in your store using automation features. 
Conclusion:
Facebook Messenger Live Chat plugin is a must when it comes to the Facebook shop. This free-to-use plugin will definitely make a difference in your online business and work up to your expectations. Whether it is receiving orders after business hours or solving up a query, this plugin will help you develop trust among your customers on your online store.